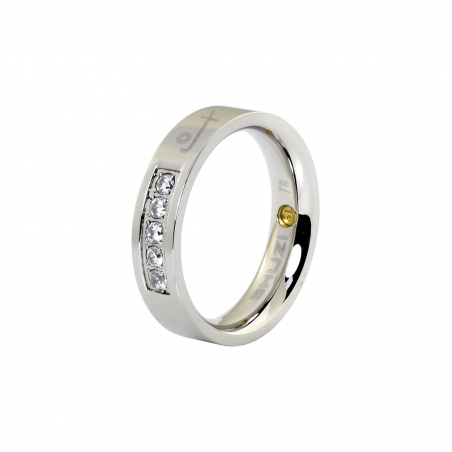  
Desire Ring (SS)
Five 2mm CZs on a polished stainless steel ring. Laser engraved with the Shuzi Logo.
See download tab below for printable ring sizer.
?You're going to love this Fabulous Ladies Style CZ ring. The solid polished stainless steel?ring contains five 2.5mm cubic zirconias. The Brilliant Cubic Zirconias?are in-layed, with?a diamond equivalent?.25 Carats total weight?which allows them to?sparkle magnificently. The?ring is durable and?fits?comfortably on your finger. You'll love how it looks and love how it feels!
Height: 5.02mm /0.20inch
Thickness: 2.21mm /0.09inch
Weight Size 8.0: 4.5g /0.18oz
Diameter:
#4.0: 14.6mm /0.574inch
#4.5: 15.0mm /0.590inch
#5.0: 15.7mm /0.618inch
#5.5: 16.1mm /0.633inch
#6.0: 16.5mm /0.649inch
#6.5: 16.9mm /0.665inch
#7.0: 17.3mm /0.681inch
#7.5: 17.75mm /0.698inch
#8.0: 18.2mm /0.716inch
#8.5: 18.55mm /0.730inch
#9.0: 18.9mm /0.744nch
#9.5: 19.35mm /0.761inch
#10.0: 19.8mm /0.779inch
#10.5: 20.2mm /0.795inch
#11.0: 20.6mm /0.811inch
#11.5: 20.95mm /0.824inch
#12.0: 21.3mm /0.838inch
#12.5: 21.75mm /0.856inch
#13.0: 22.2mm /0.874inch
Specific References
UPC

818130011847