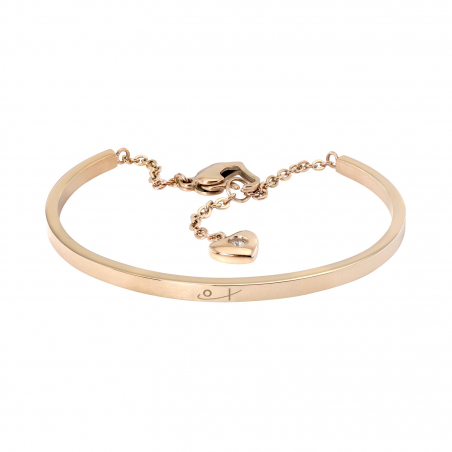  
Rose Gold Heart Cuff (SS)
Love at first sight.
Our heart rose gold plated cuff is perfect for everyday wear and fancy enough for a special occasion. Pairs well with our heart rose gold plated anklet.
Embedded with Shuzi Nano Vibrational Technology (NVT) to promote wellness for your everyday lifestyle.
Product Information:
1)Horizontal Diameter (across the bracelet)
2) Vertical Diameter (top to the bottom of the bracelet by the opening)
3) Depth (total thickness)
4) Opening width (which is the total space available to fit your wrist into)
5) Circumference (distance around the inside of the bracelet)
6) Weight?
?
Approximate dimensions of each bracelet:
?
Small
1)?Horizontal Diameter: 2.23" (56.5mm)
2)?Vertical Diameter: 1.85" (47mm)
3)?Depth: 0.16" (4mm)
4) Opening width: 1.50'' (38mm)
5)?Circumference: 6.21" (157.5mm)
6)?Weight: 0.51oz (13g)

Medium
1)?Horizontal Diameter: 2.27" (57.5mm)
2)?Vertical Diameter: 1.89" (48mm)
3)?Depth: 0.16" (4mm)
4) Opening width: 1.50'' (38mm)
5)?Circumference: 6.40" (162.5mm)
6)?Weight: 0.53oz (13.5g)

Large
1)?Horizontal Diameter: 2.29" (58mm)
2)?Vertical Diameter: 1.89" (48mm)
3)?Depth: 0.16" (4mm)
4) Opening width: 1.50'' (38mm)
5)?Circumference: 6.76" (171.52mm)
6)?Weight: 0.55oz (14g)