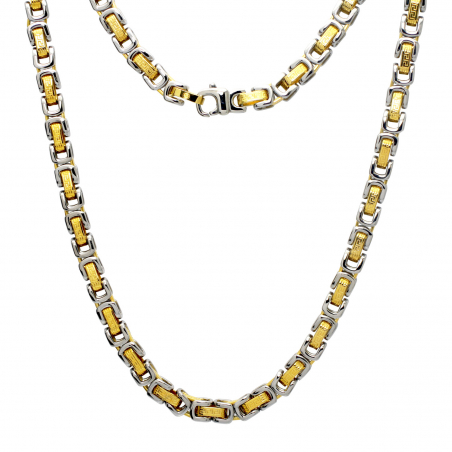  
Aristo Necklace (SS)
The best alarm clock is sunshine on chrome.
Chase the sunset?with our Aristo Necklace -- polished stainless steel, gold links with a laser-etched endless road motif and lobster claw clasp. Pairs well with our Aristo Bracelet for good, long rides.?
Embedded with Shuzi Nano Vibrational Technology (NVT) to promote wellness on your journey.
Product Information
Materials: Stainless steel, gold.
Total Length:
24": 604mm/23.80inch
26'':653mm/25.73inch? ? ? ? ? ? ? ? ? ?
Width:?
24": 7.4mm/0.29inch
26'':?7.4mm/0.29inch
Thickness:??
24": 8.17mm/0.32inch
26'':?8.17mm/0.32inch
Weight:
24": 113.9g/4.49oz
26'':?122.8g/4.84oz
Individual Link Length:?
24": 12.2mm/0.0.48inch
26'':?12.2mm/0.48inch
SHNE003-24\\\\\\\\\\\\\\\"