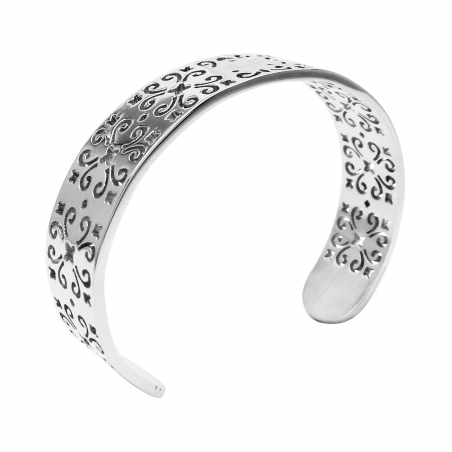  
Trellis Cuff (SS)
SS bangle with Rhodium plating.
Product Information:
1)Horizontal Diameter (across the bracelet)
2) Vertical Diameter (top to the bottom of the bracelet by the opening)
3) Depth (total thickness)
4) Opening width (which is the total space available to fit your wrist into)
5) Circumference (distance around the inside of the bracelet)
6) Weight?
?
Approximate dimensions of each bracelet:
Medium
1)?Horizontal Diameter: 2.13" (54mm)
2)?Vertical Diameter: 1.81" (46mm)
3)?Depth: 0.41" (10.5mm)
4) Opening width: 1.10'' (28mm)
5)?Circumference: 6.19" (157mm)
6)?Weight: 0.78oz (19.9g)