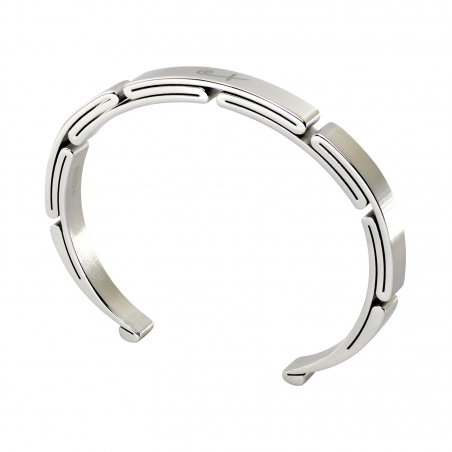  
Sport Cuff (SS)
The Sports Cuff Bracelet for Ladies is simple, yet unique. ?Inspired by Greek meander art and the idea of the continuous line, we modernized the popular classic style by designing our bracelet entirely out of stainless steel. ?The polished top and detailed sides makes this bracelet stunning to wear by itself or paired with other favorties. ?
Product Information:
1)Horizontal Diameter (across the bracelet)
2) Vertical Diameter (top to the bottom of the bracelet by the opening)
3) Depth (total thickness)
4) Opening width (which is the total space available to fit your wrist into)
5) Circumference (distance around the inside of the bracelet)
6) Weight?
?
Approximate dimensions of each bracelet:
?
Small
1)?Horizontal Diameter: 1.97" (50mm)
2)?Vertical Diameter: 1.65" (42mm)
3)?Depth: 0.18" (4.5mm)
4) Opening width: 0.85'' (21.5mm)
5)?Circumference: 5.75" (146mm)
6)?Weight: 0.57oz (14.5g)

Medium
1)?Horizontal Diameter: 2.13" (54mm)
2)?Vertical Diameter: 1.77" (45mm)
3)?Depth: 0.18" (4.5mm)
4) Opening width: 0.91'' (23mm)
5)?Circumference: 6.09" (154.5mm)
6)?Weight: 0.67oz (17g)

Large
1)?Horizontal Diameter: 2.34" (59.5mm)
2)?Vertical Diameter: 2.01" (51mm)
3)?Depth: 0.18" (4.5mm)
4) Opening width: 1.04'' (26.5mm)
5)?Circumference: 6.86" (174mm)
6)?Weight: 0.77oz (19.5g)
Specific References
UPC

818130011144