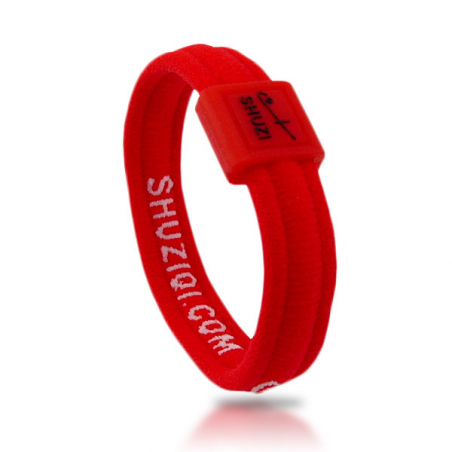  
SHUZI Comfort Band-Red
Soft, stretchy, comfy, and casual, our stretch nylon Comfort Band is easy-to-wear, 24/7.
Embedded with Shuzi Nano Vibrational Technology (NVT) to promote wellness for your everyday lifestyle.
Product Information
Shuzi Comfort Bands run large. When worn over long periods of time, they will become approximately 3-7% larger.
Please order your Shuzi Comfort Band snug around your wrist and they will fit perfectly in the long-run.
Materials: Nylon stretch.
XXS
Length: 150mm /5.91inch
Width: 15mm /0.59inch
Circumference: 134mm /5.28inch
XS
Length: 170mm /6.70inch
Width: 15mm /0.59inch
Circumference: 153mm /6.03inch
Small
Length: 190mm /7.49inch
Width: 15mm /0.59inch
Circumference: 175mm /6.90inch
Medium
Length: 200mm /7.88inch
Width: 15mm /0.59inch
Circumference: 181mm /7.13inch
Large
Length: 210mm /8.27inch
Width: 15mm /0.59inch
Circumference: 190mm /7.49inch
XL
Length: 220mm /8.67inch
Width: 15mm /0.59inch
Circumference: 200mm /7.88inch
XXL
Length: 230mm /9.06inch
Width: 15mm /0.59inch
Circumference: 205mm /8.08inch
Specific References
UPC

818130010499