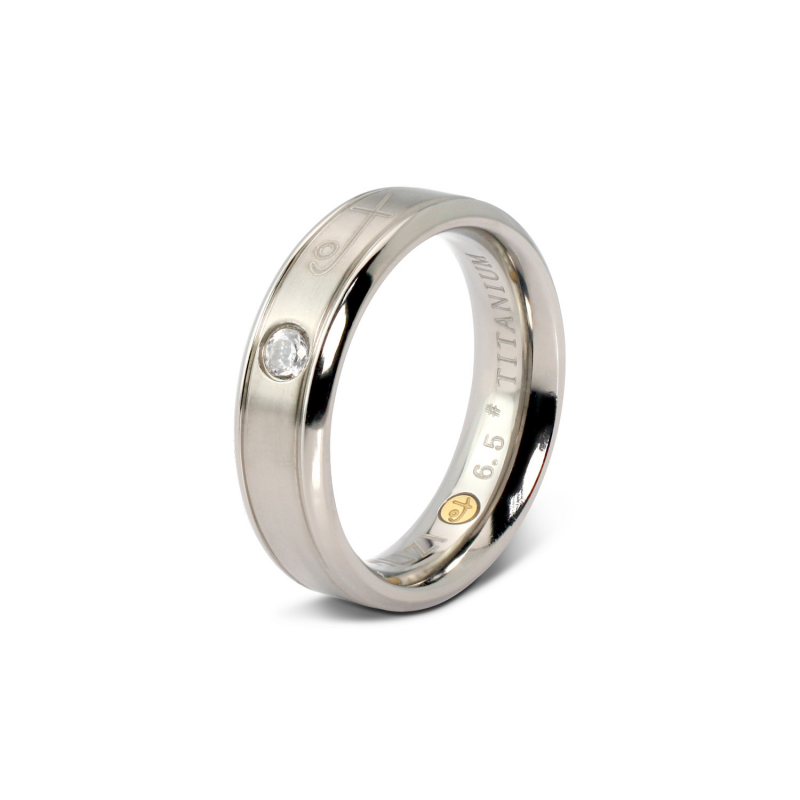  
Triple Treasure Ring (Ti)
Three CZs evenly spaced around a titanium based ring with a brushed finished and a polished highlight around the edges.
Three 2.5mm CZ gems are pressure fitted into this brilliant tianium ring.
The center section of the ring has a brushed finished that screams sophistication, while the outer edges of the ring is polished with a shiny reflection.
Height: 5.92mm /0.23inch
Thickness: 2.32mm /0.09inch
Weight Size 8.0: 3.1g /0.12oz
Diameter:
#4.0: 14.6mm /0.574inch
#4.5: 15.0mm /0.590inch
#5.0: 15.7mm /0.618inch
#5.5: 16.1mm /0.633inch
#6.0: 16.5mm /0.649inch
#6.5: 16.9mm /0.665inch
#7.0: 17.3mm /0.681inch
#7.5: 17.75mm /0.698inch
#8.0: 18.2mm /0.716inch
#8.5: 18.55mm /0.730inch
#9.0: 18.9mm /0.744nch
#9.5: 19.35mm /0.761inch
#10.0: 19.8mm /0.779inch
#10.5: 20.2mm /0.795inch
#11.0: 20.6mm /0.811inch
#11.5: 20.95mm /0.824inch
#12.0: 21.3mm /0.838inch
#12.5: 21.75mm /0.856inch
#13.0: 22.2mm /0.874inch
#13.5: 22.65mm /0.891inch
Specific References
UPC

818130012400