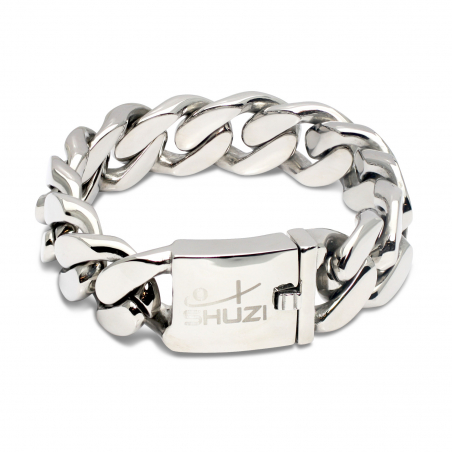  
SHUZI Wrangler Bracelet (SS)
Unlike a bike that's seen a lot of pavement, no bungee cord or electrician's tape necessary for our Wrangler Bracelet.
Solid, heavyweight stainless steel and snap-in closure. Rust-resistant. A reliable companion for the rugged road and rough weather.
Embedded with Shuzi Nano Vibrational Technology (NVT) to promote wellness on your journey.
Product Information
Materials: Stainless steel.
Total Length:
Medium: 208mm /8.2inch
Large: 224mm /8.83inch
XL: 240mm /9.46inch
XXL: 258mm /10.17inch
Width:
Medium: 20.5mm /0.81inch
Large: 20.5mm /0.81inch
XL: 20.5mm /0.81inch
XXL: 20.5mm /0.81inch
Thickness:
Medium: 7.5mm /0.30inch
Large: 7.5mm /0.30inch
XL: 7.5mm /0.30inch
XXL: 7.5mm /0.30inch
Weight:
Medium: 154.3g /6.08oz
Large: 165.5g /6.52oz
XL: 176.6g /6.96oz
XXL: 186.9g /7.36oz
Individual Link Length:
Medium: 29.5mm /1.16inch
Large: 29.5mm /1.16inch
XL: 29.5mm /1.16inch
XXL: 29.5mm /1.16inch