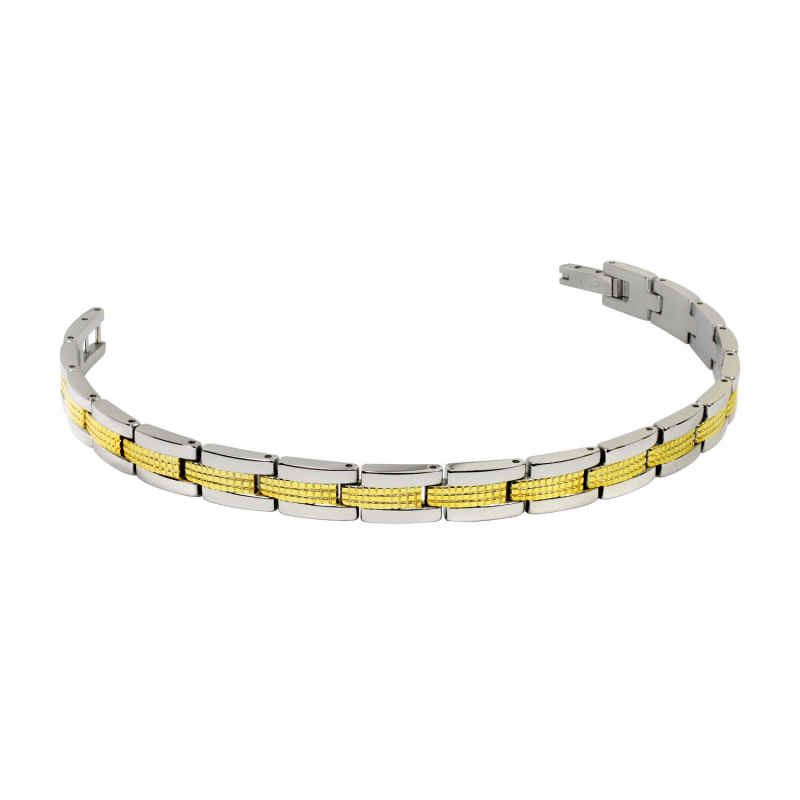  
Textured Two Tone Bracelet (Ti)
The Two-Tone Link Bracelet for ladies is a one of a kind beauty.
Designed of lightweight, lasting titanium, the 18K yellow gold accent makes this bracelet a bold yet necessary piece for a confident woman with a refined taste.
Note: Our titanium link bracelets use a proprietary stainless steel clasp and is 8.27 inches in length and 7.8 mm in width.
Total Length: 210mm /8.27inch
Width: 7.8mm /0.31inch
Thickness: 2.5mm /0.10inch
Weight: 18.8g /0.74oz
Individual Link Length: 13mm /0.51inch
About Titanium: Titanium exhibits a high strength to weight ratio. Pure titanium is stronger than steel yet nearly 50% lighter. When added to various alloys, its hardness, toughness and tensile strength can be increased dramatically. Titanium is immune to corrosive attacks by saltwater and marine atmosphere, and exhibits exceptional resistance to a broad range of corrosive gases, acids and alkalies. Immune to micro-biologically influenced corrosion, Titanium is physiologically inert and hypoallergenic.