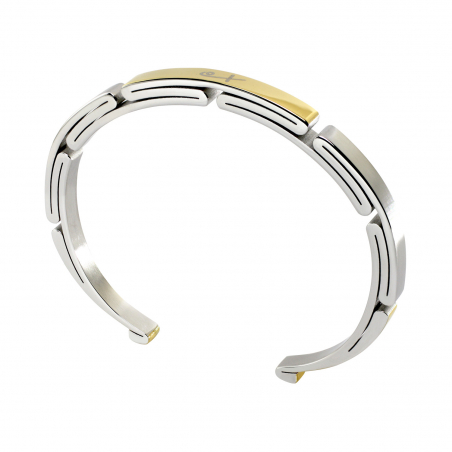  
Two Tone Sport Cuff (SS)
Classy and comfortable with a slight flex to help find that perfect fit. ?The sides of the Two Tone Sports Cuff Bracelet are intricate and fashioned with polished stainless steel to reflect Shuzi's inner vibrant technology. ?The top is plated with 18K gold giving this cuff a modernly luxurious look. ?The perfect blend between two powerful colors, the two tone cuff is the perfect statement piece.
This bracelet is thin and comfortable to wear for all occasions.?
Product Information:?
1) Horizontal Diameter (across the bracelet)
2) Vertical Diameter (top to the bottom of the bracelet by the opening)
3) Depth (total thickness)
4) Opening width (which is the total space available to fit your wrist in)
5) Circumference (distance around the inside of the bracelet)
6) Weight?

Approximate dimensions of each bracelet:

Small
1)?Horizontal Diameter: 1.97" (50mm)
2)?Vertical Diameter: 1.65" (42mm)
3)?Depth: 0.18" (4.5mm)
4)?Opening width: 0.85" (21.5mm)
5)?Circumference: 5.75" (146mm)
6)?Weight: 0.57oz (14.5g)

Medium
1)?Horizontal Diameter: 2.13" (54mm)
2)?Vertical Diameter: 1.77" (45mm)
3)?Depth: 0.18" (4.5mm)
4)?Opening width: 0.91" (23mm)
5)?Circumference: 6.09" (154.5mm)
6)?Weight: 0.67oz (17g)

Large
1)?Horizontal Diameter: 2.34" (59.5mm)
2)?Vertical Diameter: 2.01" (51mm)
3)?Depth: 0.18" (4.5mm)
4)?Opening width: 1.04" (26.5mm)
5)?Circumference: 6.86" (174mm)
6)?Weight: 0.77oz (19.5g)
Specific References
UPC

818130011052